ND COVID-19 Ag Test
COVID-19 Detection
The symptoms for the virus are similar to that of other viruses such as cold and flu, so population screening paired with conclusive detection testing is one of the most effective methods to control the spread of infection, enabling earlier quarantine and treatment.
It will also be critical in the future to help get people back to work safely so that the global economy can be restarted.
Why We Need Antigen and Antibody Tests?
We are aiming ultimately to develop highly reliable tests that meet the clinical performance requirements set out by the MHRA/FDA and other regulatory bodies around the world and deliver results that patients and healthcare professionals can trust.
ND COVID-19 Ag Test is a lateral flow rapid test for the qualitative detection of COVID-19 specific antigens in human naso-pharynx.
This test employs immunoassay technology to detect Nycleo-capsid protein and spike protein from SARS-CoV-2 virus present in nasopharyngeal (NPS), oropharyngeal (OPS) and nasal swab (NS) specimens.
Fast Result – within 10~15 mins
Outstanding Sensitivity and Specificity – More than 95%
Simple and User-friendly test – 3 steps, soft tube squeezed easily.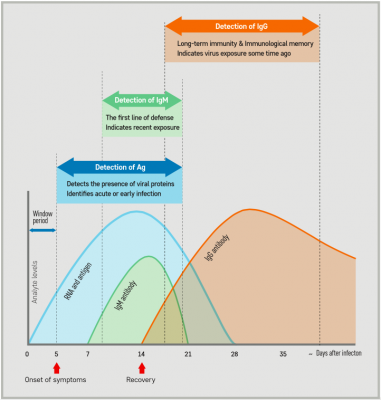 Specifications
Product name: ND COVID-19 Ag Test
Test Principle: Immunochromatiographic assay
Specimen: Nasopharyngeal swab
Test Time: 10~15 min
Storage Temperature: 1~30oC (33.8-86oF)
Shelf Life (Sealed): 12 months
Test Procedure
Results Interpretation