Sumi Chlorhexidine Antiseptic Mouthwash 0,12% (250ml)
Ingredients:
• Purified water
• PEG 40 hydrogenated castor oil
• Curcuma longa (turmeric) oil
• Mentha piperita (peppermint) oil
• Glycyrrhiza Glabra (Licorice) Root Extract
• Chlorhexidine Gluconate
• Acesulfame K
• Flavour
• Sodium Citrate
• Cooling agent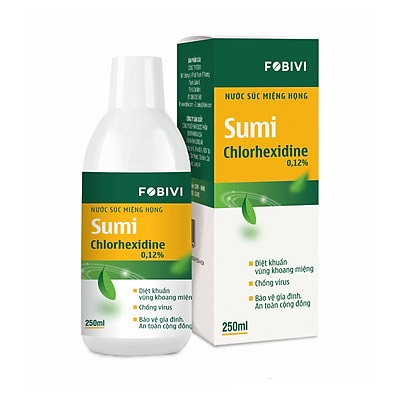 Fobivi Sumi Chlorhexidine Mouthwash
Indications:
Sumi is used to gargle daily, kill bacteria in the oral cavity – throat.
Prevents a number of dental diseases and gum problems such as: excessive bacterial plaque, tooth decay, gingivitis, mouth ulcers, periodontitis.
Removes plaque on teeth, helps clean teeth, prevents bad breath.
Promotes the process of increasing enamel remineralization – dentin to help strengthen teeth.
Prophylaxis and support in the treatment of sore throat, prevention of the spread of viral and bacterial influenza.
Especially convenient for long-term hospital patients or people working in a hospital environment.
Directions For Use:
Children over 6 years old and adults:

Gargle daily for at least 30 seconds from 1 to 2 times for general oral hygiene.

When there is a lesion: Use 0.02 – 0.05% solution to gargle from 1 to 6 times a day (especially after eating) to support the treatment of pharyngitis – mouth.

Prevent the virus from entering the throat, take 5ml and gargle for 2 minutes, including 3 times throat, about 15 seconds each time. After rinsing, leave it on, do not rinse again by water.

Rinse mouth before going out and as soon as coming home (or right after close contact with other people).
Children under 6 years old:
Children with stomatitis – pharyngitis, gargle from 1 to 3 times a day, interval at least 4 hours between sessions.
Products recommended by medical professionals